So, you're getting married! What an exciting time in life. Weddings are one of the most memorable events that will occur during your lifetime. Your ceremony should reflect your love and fulfill all of the wishes that you have for your special day. Together let's make sure your wedding day starts off right, with a ceremony that is everything you dreamed of.
Watch these teaser videos of ceremonies performed by Kelly:
Learn more about Orlando Ceremonies by Kelly and read her personal story below.
Then check out the Ceremonies page to begin planning your ceremony!
Choosing Your Officiant…
One of the most difficult tasks for a couple is selecting vendors for their big day. Selecting an officiant is important because an officiant is the person who starts off your celebration and can set the tone for your entire wedding day.
Consider the following items before choosing an officiant: What type of feeling do you want your ceremony to evoke? Do you want it to be humorous, romantic, short and sweet, more traditional? Are you looking for something a bit different and more unique? A ceremony that speaks to you as a couple and/or to the passions that you share.
Orlando Ceremonies by Kelly provides secular (non-religious) ceremonies that celebrate the individual styles of each couple. Let me work with you get your big day off to the right start!
Do What Makes You Happy
For 34 years I worked as a high school counselor, elementary school teacher and educational consultant/presenter in both Pennsylvania and New Jersey. As an educator, my greatest joy came from helping young people to realize their dreams and take the next steps in their journey after high school. For many years I considered what I would do that might provide that same job satisfaction after I retired from education.


Several events happened in my life that began pointing me toward becoming a Wedding Officiant. I just knew it was the perfect choice for me. Officiating allows me to get to know couples and assist them in creating a ceremony that reflects their love for one another and their commitment in marriage. It utilizes many of the same skills that I learned from being a counselor, and there is nothing more rewarding than seeing two individuals celebrate their love.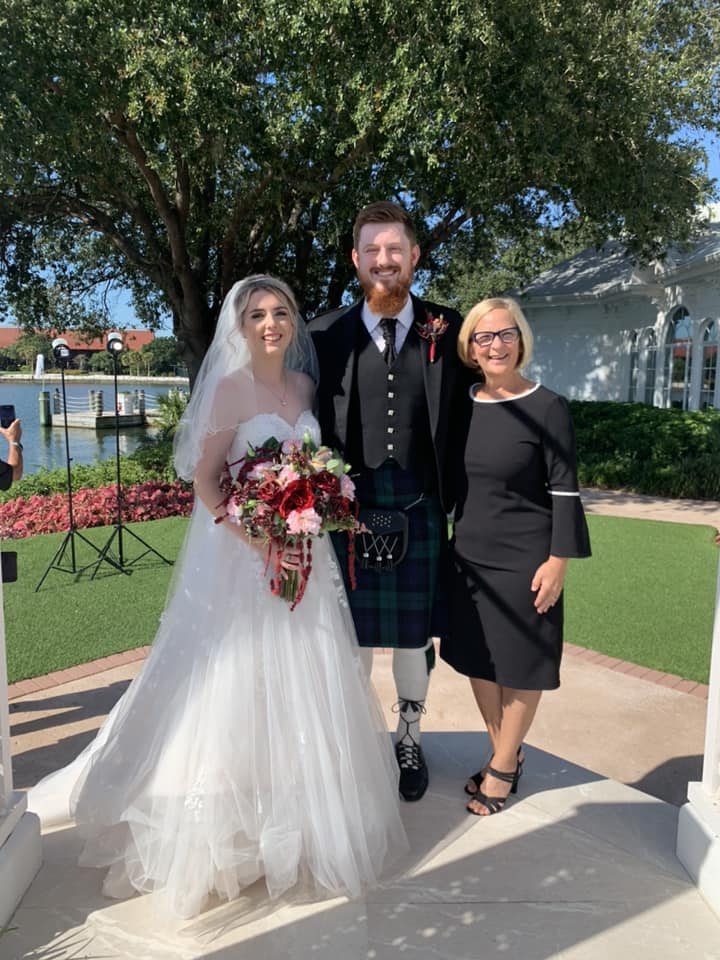 At the same time, I was considering my next career move, both of my adult children had decided to relocate to the Orlando Area. My husband and I began plotting a move to be closer to our children and their families.
In June of 2017 we made the move. I became a notary public and in November of that year I officiated my first wedding. I have been happily pronouncing couples married ever since. From Disney Weddings to small intimate "I do's" in the park I find that each ceremony and each couple leave an indelible mark on my heart.
I truly love what I do!
Choose the Perfect Ceremony
Your story is unique. Your love is unique. Your special day should be too.
Learn more
about custom ceremonies.